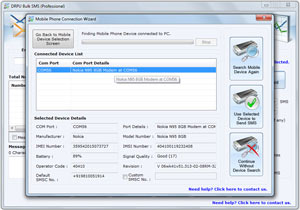 Order Now / Downloads
Best Buy Price: $69
Bulk SMS Software – Professional
PC to Mobile SMS Software easily broadcast bulk SMS from PC to user`s CDMA, GSM mobile phones via using any windows OS based pocket PC, PDA and smart phone handsets. The powerful sms marketing utility is an effective tool used by government and corporate sectors for making Contacts with Clients, Product Campaigning, Job offer notification, Vacancies details, Business news, Seasonal greetings, Warm wishing and many more.
Computer to mobile bulk sms software facilitates economical and fast way to make contact with the friends, relatives, family members residing in any part of the world. Mass sms sending software service can quickly send bulk text messages to either single or group of people mobile phones subscribed to any (national or international) mobile network services. PC-to-phone sms server software does not require any internet connection for sms broadcasting and presents a cost-effective alternate solution for sending the bulk sms.
PC to mobile phone text messaging tool not only allow users to compose and send mass volume of sms but also facilitates with sent items details of bulk sms. The integrated mobile text broadcasting application is compatible with all windows based mobile phone handsets supported by Microsoft ActiveSync and Windows Mobile Device Center that includes Samsung Epix, HP IPAQ Voice Messenger, Motorola MOTO Q9c, Velocity Mobile 103/111, HTC Touch Diamond, Palm Treo Pro, O2 XDA Mantle, and many more.
Note :
Synchronizing your mobile device with your PC is a faster, easier way to connect desktop PC and your Windows Mobile powered device to transfer information, settings, and files. Synchronization is handled with different applications for Windows Vista and Windows XP or earlier, so please checks which operating system your PC is running and choose the appropriate option listed below.
If your PC is running Windows Vista, your synchronization settings will be managed through the Windows Mobile Device Center.
If your PC is running Windows XP, or earlier, your synchronization settings will be managed through Microsoft ActiveSync.
Features:
Unique, reliable and easy to use bulk sms software easily broadcast SMS from your computer to any GSM, CDMA mobile phones via using windows based pocket PC, PDA and smart mobile phones.
Can create & deliver group sms to either single or mass people at the same time.
Can quickly send sms to any national or international mobile networks.
Facilitates to business marketing by sending sms related to promotional campaign, job alert notification, invitations, emergencies news, seasonal greetings, etc.
Helps in making easy communication with not only employees, clients but also family members, relatives, friends, etc. residing in any part of the world.
Supports all the windows compatible pocket PC, PDA and smart mobile phone handsets including HTC S730, E-Ten Glofiish X650, MSI 5608, Asus P526, SGH-i900 Omnia, Benq E72, Motorola Moto Q 11, Samsung Ace, Asus P526 and many more.
No internet connection required for broadcasting the text messages.
Easily operated by both technical and non-technical persons.
Smoothly runs on all windows based operating systems.